These Cars Are Made For You If You Love The Outdoors
While we would never advocate selling your home and living in a car if you like traveling for long periods of time, having one of these vehicles can be a real blessing.
Deciding to go on a road trip is exhilarating in and of itself. Discovering the landscape of the United States of America is rewarding and a great experience. However, instead of spending thousands of dollars on hotel rooms during the trip, some people choose to camp out, or simply sleep in their cars.
Sure, you could consider buying a tent and camping out, but sometimes, the nights get really cold. Therefore, having a heated interior sounds kind of amazing.
[su_quote class="cust-pagination"]
"The freedom of the open road is seductive, serendipitous and absolutely liberating." 
― Aaron Lauritsen
[/su_quote]
Thankfully, instead of having to carry around tons of camping gear, you can just use one of these cars and enjoy your road trips.

Chevrolet Conversion Van (the 1980s)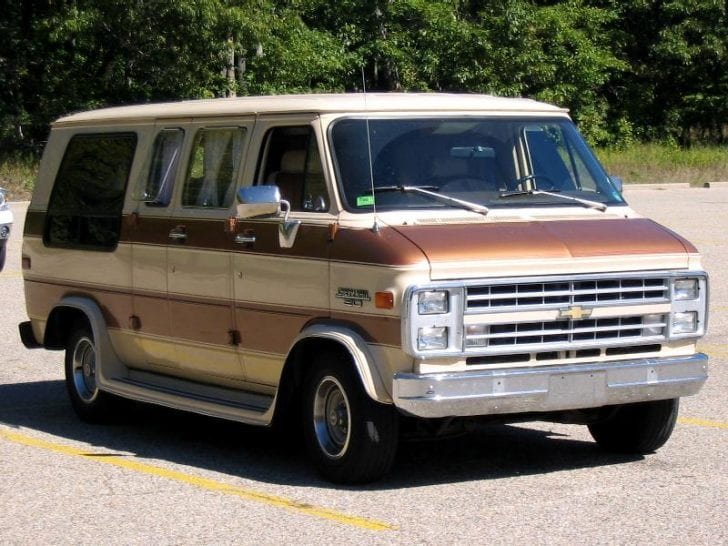 For the first entry on our list, we decided to go with a perfect retro example for long road trips. Some of us still remember going on trips with our families in one of these. The rear bench seat folds into a bed, so you are basically not losing out on any comfort you are used to in your home. You can easily equip it with a TV screen and gaming stations, and the high top table completes the interior in a very useful way.
However, what we want to point out is the fact that they are incredibly customizable. Since you can get one of these for less than 3,000 dollars (in a good state), you can afford various add-ons for your car. You don't even need to look far for inspiration as there are thousands of people who have already found a lot of ingenious ways to upgrade this van.

Honda Element
Well, you will want a Honda Element with ECamper. This car is a child of a team up between Honda and Ursa Minor Vehicles. What Honda wanted to achieve when they started the cooperation with a company that specializes in pop-up campers was to make Element even more practical than it was. Even if it is no longer being manufactured, this clever breed of a car is almost an ideal home for a "drifter" who wants to spend a lot of time living in his/her car.
The rear seats in this car can fold up into the walls to free up extra space, and the camper on top only adds about six inches to the height of the vehicle while in motion. However, when you use it, it will give you over 6 feet of height for you to stand inside, you will have a mattress, and LED lighting that uses up next to no battery power. You also get a full panoramic view since there are windows on all four sides. So, if you already have a Honda Element, you should consider converting it with this 5,000 dollar kit.

Chrysler Town & Country
If you want to enjoy a little luxury while "camping" out in your car, you can go for a Chrysler. You get a beautifully designed car with swiveling seats, TV, a pop-up dining table, swiveling seats, USB ports, a quiet cabin, and a ton of tech. When it is time for you to finally go to sleep in this car, you can simply flat out the rear seats into the floorboard and get a pretty big area to sleep on.
 
Ford Transit Connect Van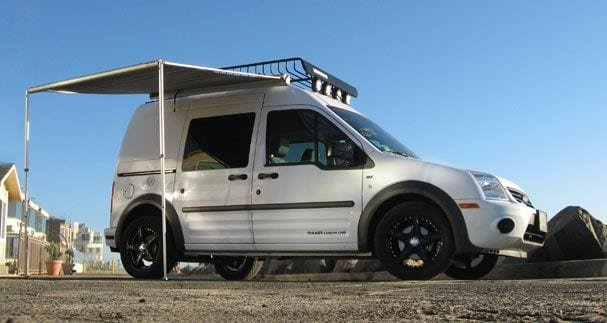 Another great car for those who want to travel around. However, this one made it on our list because it doesn't really look like it. Ford transit has a bit of a sharper look, and it was not designed to be a camper, but with a little bit of effort, it can be handy. It definitely has the space needed. It can actually seat up to 15 people comfortably and an expanding roof that gives enough space for a really tall person to stand up.
The best part of this is that, since this is a working van and not a camper, the fuel efficiency is awesome.

Volkswagen Westfalia
As we have started with one, we are also going to close our list with a retro entry. Westfalia is the definitive model that comes to mind when someone even mentions living on the road. And, believe it or not, Westfalias were being produced even in the 21st century. The newer models come equipped with a tent, modern AC system, more horsepower and other modern amenities. However, it is the model from the fifties that is the staple of the culture. Folding tables, side tents, a stove and other little "details" make this camper into a house on wheels.